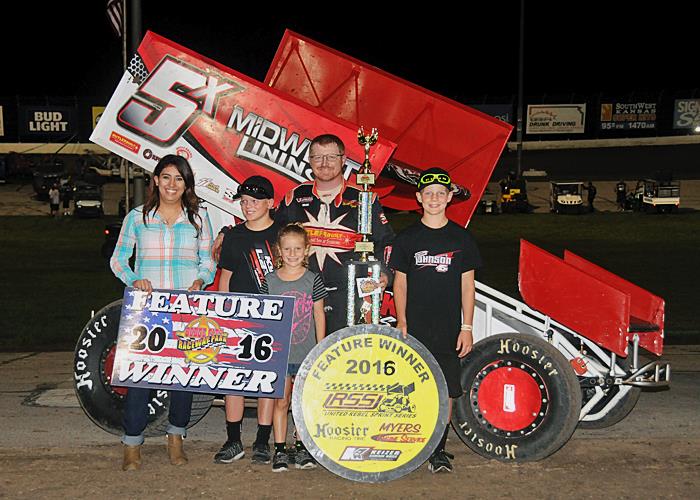 ---
Carney & Martin Capture "Boothill Showdown" Steve King Memorial Honors
John Carney II and Jason Martin came away with the big money by winning Sunday night's "Boothill Showdown" Steve King Memorial finale atop the 3/8-mile Dodge City Raceway Park clay oval.
Carney II pocketed a $10,000 winner's share by winning a hard-fought 30-lap NCRA Sprint Car feature in the return of the Lubbock Wrecker Service/Steward Builders No. 11x Sprint Car, Martin wired the URSS vs. Precise Racing Products DCRP Sprint Cars for a $2,000 payday and Kiwi native Glenn Waterland completed a sweep of the weekend's Colorado Lightning Sprints presented by Eagle Chassis action.
NCRA Sprint Cars
It was a car with a familiar look to long-time racing fans in Dodge City. But, rather than retired Garry Lee Maier, it was El Paso native John Carney II behind the wheel of the white Lubbock Wrecker Service/Steward Builders No. 11x Sprint Car.
Carney II slid past Show-Me Stater Brad Loyet on the 19th round, led a high-speed chase through traffic and then weathered one final caution with four laps to go to capture the $10,000 winner's share in the 30-lapper.
"That car was locked down, they're fun to drive when they're that good," Carney II said in victory lane.
It was the first weekend out for the newly formed team. "I really have to thank these guys. We put this together to just do a few hit-and-miss here and there. And look where we are now!"
Carney II had his work cut out for him, gridding the field sixth with Loyet and Friday night winner Jack Dover leading the way to the green flag.
Loyet won the race to the first corner, but Dover charged back in front down the backstretch to lead the opening lap. Loyet battled back in turns one and two on the second round to take command and paced the field while wading through a pair of cautions in the opening half-dozen circuits.
Getting a stretch of green flag laps beginning on lap seven, Loyet led the way in front of Dover and Carney II, who had waited just three laps to make his way into third. A three-way battle for the point was rapidly developing when traffic came into play on the 12th lap, only to be foiled when Dover grenade an engine going into turn three on the 14th round.
Back under way, Loyet took off briefly only to have Carney II closing back in to challenge just past the midway point. Carney II got the run he needed entering turns one and two on the 19th round and successfully slid into the lead.
With traffic back into play by the 21st lap, Loyet kept the heat on Carney II for the $10,000 victory until the red lights flickered with just four laps to go when Joe Wood, Jr., tagged the turn two wall and flipped at the same time that Forest Sutherland spun to a stop in turn three.
Carney II took off on the final restart and cruised to the checkered flag ahead of Loyet with Lincoln, Nebraska's Don Droud, Jr., rounding out the podium in third. C.J. Johnson fought off Danny Jennings over the closing rounds for fourth, with Jennings settling for fifth after taking the position from defending Steve King Memorial winner Tony Bruce, Jr., just three laps shy of the checkered flag.
Bruce, Jr., settled for sixth with Jeremy Campbell climbing seven positions from 14th to seventh. After topping the 305-ci portion, Jason Martin rallied from 17th to eighth with 20th-starter Jon Freeman and Jake Greider completing the top ten.
URSS vs. Precise Racing Products DCRP Sprint Cars
Now a resident of Lincoln, Nebraska, Jason Martin rarely gets an opportunity to race in front of his native Liberal, KS, friends and family.
Martin took full advantage of the opportunity to do just that by leading wire-to-wire in the 25-lap URSS vs. Precise Racing Products DCRP Sprint Car portion of the "Boothill Showdown" Steve King Memorial to take the $2,000 winner's share.
"There was some bad boys behind me, I had to be on my A-game to keep them there," Martin said after the triumph aboard the Trucks Plus/Midwest Linings No. 5x entry over a field of 39 competitors.
After a sixth-place run from 18th in Friday's preliminary event, Martin earned a position in Sunday's redraw after heat race action and pulled the pole starting position for the feature event with reigning track champion Luke Cranston alongside.
Martin gunned into the lead at the outset and kept Cranston at bay throughout, surviving three minor cautions in the opening 15 rounds and then one final stoppage after 22 laps when Keefe Hemel and Ty Williams went for a wild double-flip in turn two.
Martin held off Cranston on the final three-lap dash to the stripe with John Carney II tuning up for the NCRA portion of the event by taking the final podium position in third. Jeremy Huish was fourth with Mike Peters rounding out the top five.
Zach Blurton was sixth, with Zac Taylor, Taylor Velasquez, Lance Davis and 18th-starter Tyler Knight completing the top ten.
Colorado Lightning Sprints presented by Eagle Chassis
New Zealand native Glenn Waterland finished off a sweep of the weekend's Colorado Lightning Sprints presented by Eagle Chassis competition by wiring the field in Sunday night's 15-lap feature.
After taking control in the latter stages of Friday night's preliminary feature, Waterland jumped into the lead at the drop of the green flag and led throughout in the non-stop affair to take top honors ahead of Blaine Schubarth and Johnny Boos.
Racing action continues at Dodge City Raceway Park on Saturday night, July 23, with a pivotal card of DCRP championship action featuring the Precise Racing Products DCRP Sprint Cars, IMCA Modifieds, IMCA Sport Modifieds, IMCA Stock Cars and IMCA Hobby Stocks.
Back to News